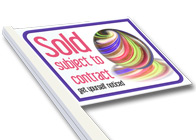 Estate agent flag boards, these side fixing estate agent boards that are wider than they are tall, are printed directly on to both sides of a 6mm 1400gsm estate agent board material, using the latest digital machines in 1 colour to full colour including photographs all for:
just £6.20 each + VAT.*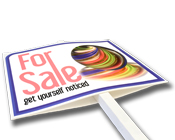 Estate agent T Boards are a centre fixing estate agent sign. Constructed from 2 sheets of 4mm thick estate agent boards, electro welded down the two vertical outside edges. Printed both sides in anything from 1 colour to full colour including photographs all for:
just £7.00 each + VAT.*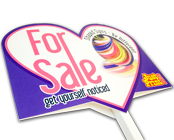 Shaped Boards
Shaped estate agent boards are a great way to stand our from the crowd and get your agency noticed. Printed both sides in full colour and cut to shape, available in either flag boards or T boards. Full design service available with these low cost signs  is it time to be different:
From Just £8.21 + VAT*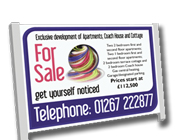 Commercial boards are available in a variety of sizes, from your standard 1220mm x 915mm (4ft x 3ft) right up to 2440mm x 1220mm (8ft x 4ft). Generally these boards are printed one side, for mounting in a v shape or flat on the wall, printed in full colour from:
Just £11.25 each + VAT*
Cant find what your looking for or Need Help?
Call our sales line on 01269 841130
Monday to Friday 8.30 til 5pm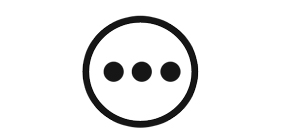 Post, Slips & Fixings
We also offer a full range of custom slips, made to suit your board designs, nylon fixings to fit your slips to the boards, or boards to posts.  Colour headed button screws for mounting boards to posts. Wood screws, Posts and much much more.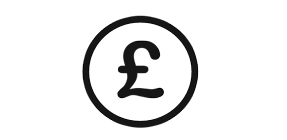 Pack Deals & Offers
See our range of package deals, for Flag boards or T- Boards with slips, or boards, slips and posts all with 1 hour of free artwork and delivery. An easy way to buy your estate agent signs. If you need human help then 
Call our sales Team 01267 222877
We don't Just Print Estate Agent Boards.
We print Everything from Business cards and Letterheads to stickers and vehicle graphics…
Check out the Just Print website for more great deals…
www.just-print.co.uk
Residential Estate Agent Boards
24" x 32" or 0.5sq mtr (maximum legal size)For the last 30 years Just Print like all other estate agent sign board manufacturers has based the price you pay for your For Sale Boards on the quantity you order and the number of colours printed… but the times they are a changing! By utilising the latest in digital print technology we have decided it's time to break the mould!Now we can help you to conserve your precious cash flow in these difficult trading times by reducing the number of estate agent sign boards you order at a time without paying silly prices!

All Prices exclude VAT and Carriage
(T-boards are subject to a 75p per board surcharge.)
It doesn't matter if your estate agent board signs have only 1 colour, 10 colours or even photographs; whether they are printed one side or two; or even if you order just 1 sign or 100…. the price you pay is just £6.25 + VAT per board.
The only additional cost is a small set-up charge of just £30 per order, Artwork starts at just £25
(T-boards are subject to a 75p per board surcharge.) Maximum size is the legal restriction of .5sq mtr.
Offer does not include Fluorescent or Metallic Inks
For larger quantities please contact us on our 
Sales line  01269 841130 for a quotation.
The Heaviest "Lightweight" Estate Agents Sign Board you will have ever seen.
Our Flag boards are manufactured by us from 6mm 1300gsm UV stabilised sheet.
Sold by us at the same price (or less) that others charge for 4.5mm 1050gsm or even 4mm 700gsm signs.
These boards really do stand up to the elements!
Of course, we can produce many other size/colour combinations. If your requirements are not listed, Please just ask!
We can also supply Commercial boards, T-boards, site signs, slips and posts please phone for prices. 01267 222877 or email sales@just-print.co.uk