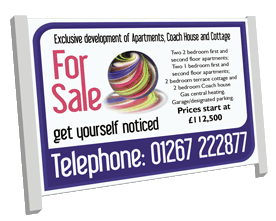 For the last 30 years Just Print like all other sign board manufacturers has based the price you pay for your For Sale Boards on the quantity you order and the number of colours printed… but the times they are a changing!
By utilising the latest in digital print technology we have decided it's time to break the mould!
Now we can help you to conserve your precious cash flow in these difficult trading times by reducing the number of sign boards you order at a time – without paying silly prices!
It doesn't matter if your signs have only 1 colour, 10 colours or even photographs; whether they are printed one side or two; or even if you order just 1 sign or 100…. commercial signs start from £11.25 per sign for a 4ft x 3ft commercial sign. Various sizes by request call 01269 841130.
The only additional cost is a small set-up charge of just £30 per order.
Offer does not include Fluorescent or Metallic Inks