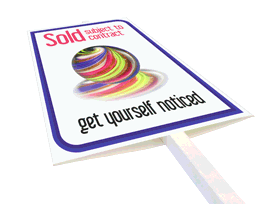 Portrait estate agent T Boards are a centre fixing estate agent sign. Constructed from 2 sheets of 4mm thick estate agent boards, electro welded down the two vertical outside edges. Once the estate agent sign board material has been welded, the normally flimsy 4mm board forms a very robust and neat estate agent board. All our estate signs are supplied printed both sides (unless requested), using the latest digital machines in 1 colour to full colour including photographs all for just £7.00 each + VAT.
Estate agent T boards are generally used to market town and city properties where space is at a premium. Often the posts are fixed to railings, so any overhang on the estate agent board over the pavement is kept to a minimum. The average city front garden is very small, and if it is boarded by walls, it is often quite difficult to find a spot where a post can be driven into the ground. A favourite place in this instance, is to site the T Board half way between the front gate and the front door, by using the centre fixing estate agent T-Board it will make better use of the space available. Most sign erection companies will be on a fixed price per sign, so will be looking to find the easiest and most convenient spot to place the estate agent T board, without coming back because the home owner has complained.
The estate agent T-board is not as versatile as a flag board, but is by far the neatest estate agent sign board. We have seen in the past clients and other suppliers use T-boards as flag boards, but they will fail in high winds and we would strongly suggest not using them as a side fixing board.
Just Print are utilising the latest in digital print technology for you to conserve your precious cash flow in these difficult trading times by reducing the number of estate agent sign boards you order at a time – without paying silly prices!
It doesn't matter if your estate agent signs have only 1 colour, 10 colours or even photographs;
whether they are printed one side or two; or even if you want to order just 1 estate agent sign or 100…. the price you pay is just £7.00 + VAT per estate agent board,

plus a machine setup fee of £30 + VAT per order or design change. Delivery charges are dependent on the quantities ordered.
Our estate agent sign boards are manufactured by us from 6mm 1400gsm UV stabilised sheet, and Sold by us at the same price (or less) that others charge for 4.5mm 1050gsm estate agent signs or even 4mm 700gsm signs. Of course, we can produce many other size/colour combinations of estate agent boards. If your requirements are not listed, please just ask!
We can also supply Commercial estate agent boards, estate agent T-boards and site signs please phone for prices. These estate agent boards really do stand up to the elements!